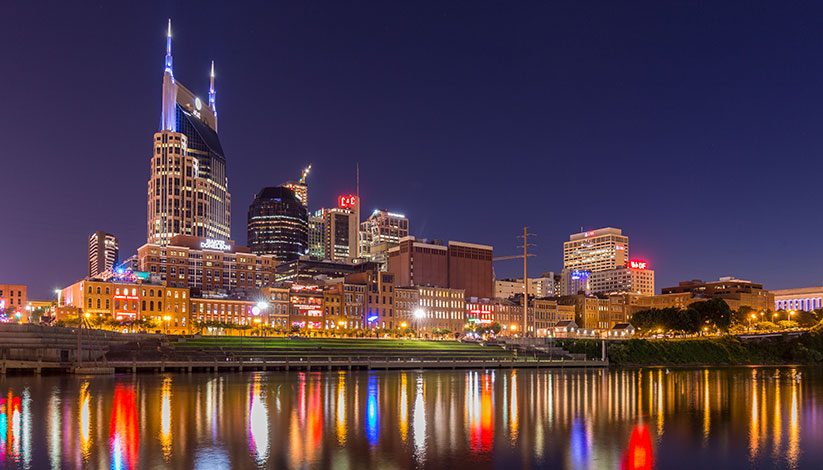 Modeling the effects of coronavirus on U.S. real estate
As volatility climbs across all global financial markets amid the coronavirus pandemic, investors are wondering where to turn to find opportunities. Real estate is no exception. Nuveen Real Estate's research team created a model to forecast U.S. real estate performance across the 50 largest cities and found that those with higher concentrations of industries such as technology, life sciences and telecommunications, as well as those that are less reliant on the energy sector and government employment appear poised for relative outperformance.
About our model
Our model evaluates the 50 largest U.S. Metropolitan Statistical Areas (MSAs) and ranks their projected performance through the end of 2020. The model considers variables related to:
Employment in industries most- and least-negatively affected by the pandemic
Measures of coronavirus severity, such as mortality rate, number of unemployment claims and population at risk
Future projections related to each city's economic and fiscal health
Exposure to fossil fuel industry employment and fossil fuel generation/production to account for related volatility
Proportion of each city's revenue from 'elastic' sources of income
Key findings
Markets with a large exposure to newer non-cyclical industries such as information technology (San Jose), life science (Boston) and telecom (Dallas) are positioned to perform the best. Industries with a large exposure to cyclical industries such as tourism (New Orleans), hospitality (Las Vegas), energy (Oklahoma City) and retail (Miami) are positioned to perform the worst.
The five most highly-ranked MSAs in our analysis are San Jose, Nashville, Raleigh, Washington, D.C. and Salt Lake City. In contrast, the five lowest-ranking are Detroit, Louisville, Buffalo, Oklahoma City and New Orleans.
Headwinds: Cities with high exposure to affected industries could suffer
Similar to how the global financial crisis last decade disproportionately impacted markets with the greatest exposure to housing-related industries, we expect the coronavirus pandemic to disproportionately affect cities with the greatest exposure to leisure and hospitality, retail, transportation and public utilities, and tourism and entertainment.
Cities with high exposures to these areas include Las Vegas, Orlando, New Orleans and Miami. High unemployment in these cities will negatively impact all real estate values across sectors, including housing, office and alternatives, as overall consumption and investment will be lower in these areas.
Cities that have high exposure to some but not all of these sectors, such as Houston, San Antonio and San Diego may also be disproportionately impacted, but are better positioned due to employment diversification.
Tailwinds: Technology and health care may buoy metros with high concentrations
The technology and health care sectors are best positioned to weather the economic impact of the coronavirus pandemic, and therefore, cities with high exposure to these sectors appear positioned to outperform. The technology sector should benefit from both a higher demand for digital products and online services, as well as a strong remote work infrastructure. The health care sector will benefit from higher demand for services and higher public investment into the sector. Cities with a greater amount of health care workers per capita will also be better positioned to combat the ongoing pandemic.
Cities with high exposures to these areas include San Jose, Boston, San Francisco, Philadelphia and Seattle. However, it is important to note that this outperformance may not extend to severely impacted sectors such as lodging and retail, which will be negatively impacted by 'social distancing' regardless of geography.
Cities with more small businesses could be at risk
Small businesses are at risk during the pandemic, given that (1) many of them operate in the lodging, retail and entertainment sectors and (2) most are not well capitalized. A prolonged economic shutdown of three months or more will cause many small businesses to close if not given financial assistance.
Both the federal government and Federal Reserve are implementing small business lending programs to try and combat this issue. The recently passed $2 trillion CARES act provides $376 billion in funding for small business, specifically providing debt relief, bridge loan financing, long-term financing, employee retention rebates or emergency grants through commercial banks. The Fed is also providing $600 billion in funding to help support the liquidity of this lending program for small- and medium-sized banks.
That said, there is no guarantee that lending will be given to all businesses in need. These programs could put major strains on the banking sector and could be undone by bureaucracy. Cities such as Miami, New York and New Orleans have a high proportion of small business employment, and will underperform if these programs do not succeed.
Cities with fiscal problems and a reliance on government employment could also suffer
The coronavirus pandemic will put a strain on state and local governments, particularly their fiscal budgets. Given that state and local governments have to maintain balanced budgets, they will almost certainly lay off government employees in order to cut expenses and maintain fiscal solvency.
State and local austerity measures can have a negative effect on the local economy, especially in areas where government employees make up a large portion of the workforce. Additionally, states and localities with weak fiscal health, especially those that rely on income and sales taxes from cyclical industries, will be more likely to incur large deficits during this pandemic. Cities with weak fiscal health and higher dependence on government employment (seen in white) such as Sacramento, San Diego, Inland Empire, New York and Chicago, will likely see the most consequential fiscal impacts from the COVID-19 pandemic.
Beware of cities reliant on energy production
The volatility of crude oil prices and other fossil fuel commodities is likely to cause long-term harm to the fossil fuel industry. Companies that produce or generate energy tied to fossil fuels are generally not well capitalized and operate in a highly competitive cyclical industry. Additionally, these companies face long-term headwinds, such as competition from renewable resources, more prevalent energy efficient technologies such as electric cars, lower investment from institutional and sovereign wealth funds and political animosity due to climate change. For these reasons, we believe cities with high exposure to fossil fuel employment (e.g., Houston) will be negatively impacted, and those that also have lack employment diversification (e.g., New Orleans and Oklahoma City), could suffer even more
Next steps: ongoing evolution for our model
Nuveen Real Estate's research team is evolving this model, and we anticipate future versions will incorporate additional variables related to the effects of the temporary federal ban on immigration, the ability of each city to reopen economic activity, the proportion of commercial loans that are currently delinquent and the proportion of 'gig workers'. We plan to refine our analysis as the coronavirus pandemic develops, providing current and actionable insights for our clients. For more information on our proprietary model and a full ranking of the 50 cities, please contact your Nuveen relationship manager or our real estate specialist team.
Related articles