Important Information
This site has been created for exclusive use by institutional investors only and does not take into account investment objectives, financial situation or specific needs of any individual investor. Information should not be the sole basis for any investment decision.
If you are not an institutional client, consultant or financial professional and are looking for more information about mutual funds and other products at Nuveen, please visit our site at www.nuveen.com.
Past performance is not a guarantee of future performance. All investments involve some degree of risk including loss of principal. Investment objectives may not be met.
By agreeing you are confirming you are being truthful, acknowledging you have read the information above and accept the terms and conditions set out with this site and meeting the intended audience requirement for this site. Not all content on this site is appropriate or applicable for the general public and we cannot guarantee consequences with the use of this information by unauthorized or unintended users. Content on this site may not be redistributed and is for informational purposes only and does not constitute investment advice or provide a solicitation of an offer to buy any security.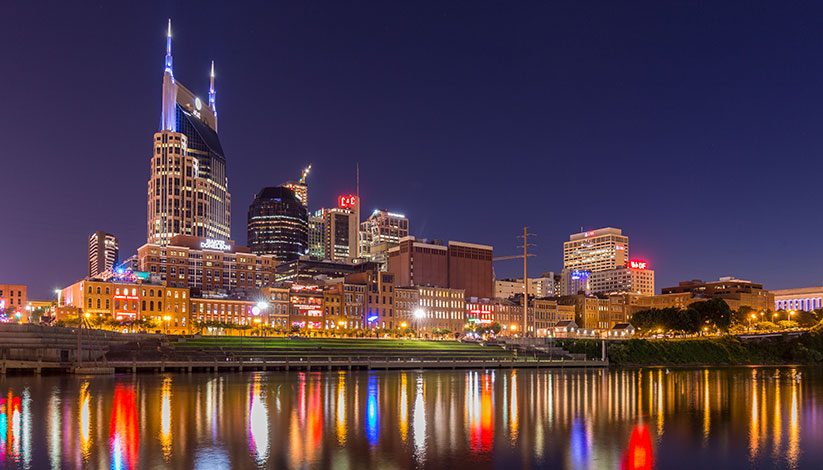 Modeling the effects of coronavirus on U.S. real estate
An update to our model analyzing the effects of coronavirus on U.S. real estate markets
As volatility climbs across all global financial markets amid the coronavirus pandemic, investors are wondering where to turn to find opportunities. Real estate is no exception. In May, Nuveen Real Estate's research team created a model to forecast U.S. real estate performance across the 50 largest cities and have recently updated the original analysis with the most current data as well as included new variables to enhance our understanding of the outlook and conditions in each market.
New variables include:
The proportion of the workforce employed by small businesses
Projected unemployment rate and Gross Metro Product growth rates
The proportion of non-current commercial loans by city
Change in consumer spending year-over-year, or data measuring mobility to understand each city's reopening trajectories
Previous variables with updated data include:
Employment in industries most- and least-negatively affected by the pandemic
Measures of coronavirus severity, such as mortality rate, number of unemployment claims and population at risk
Future projections related to each city's economic and fiscal health
Exposure to fossil fuel industry employment and fossil fuel generation/production to account for related volatility
The proportion of each city's revenue from 'elastic' sources of income
Key findings
Currently, the five most favorably -ranked MSAs in our analysis are Boston, Washington, D.C., Nashville, Columbus and San Jose. In contrast, the five lowest-ranking are Chicago, New York, Buffalo, Miami and New Orleans.
In looking at all the information across the new variables combined with the updated data from those previously considered, we believe:
Markets with large exposure to newer non-cyclical industries such as information technology (San Jose), life science (Boston) and defense (Washington, D.C.) are best-positioned for resilience.
Markets with large exposure to cyclical industries such as tourism (New Orleans), hospitality (Las Vegas), energy (Oklahoma City) and retail (Miami) will face continued challenges.
A look at the new variables:
The impact of coronavirus in each city
The severity of the coronavirus pandemic in each city will be a key determining factor in city performance. During the first wave of the pandemic, cities with higher densities (e.g. New York, Chicago) or relatively high poverty rates (e.g. Detroit, New Orleans) have been most severely impacted by the pandemic, as measured by mortality rate.
A key risk factor that may determine the ultimate severity of the coronavirus impact in a given city is the proportion of residents that are 65 or older. Miami, Pittsburgh, Tampa and Cleveland are all major cities with a significant share of seniors, at around 20%. In contrast, cities such as Austin and Salt Lake City, which have a low proportion of this at-risk demographic, might be in a better position to avoid a severe coronavirus impact.
Unemployment and Gross Metro Product
Baseline unemployment rate and Gross Metro Product (GMP) growth projections provide references for forecasting city-level economic performance. Projections are subject to the assumptions of the forecaster (Moody's Analytics), but cities with high exposure to cyclical and underperforming industries tend to have higher projected 2Q 2020 unemployment rates and lower 4Q 2020 GMP growth.
The role of commercial mortgage leverage
Recently, a significant proportion of commercial mortgage sponsors, particularly those managing retail and lodging properties have requested forbearance on loan payments. Cities that have a higher proportion of non-current loans will be in a worse position to recover economically from the pandemic. Using non-agency CMBS loans as a proxy, we have measured the proportion of 'non-current' (classified as in a grace period/late, delinquent, in special servicing, REO or foreclosed) commercial loans by city.
The speed of the economic recovery will be a key factor in determining whether non-current loans will be paid off in full. If the economic recovery is quick (exhibits a V-shape), sponsors will be able to make deferred interest-payments. If the economic recovery is slow (exhibits an L-shape), sponsors are at risk of default or foreclosure.
Measuring the economic reopening
The speed of economic recovery will vary by city depending on (1) how quickly stay-at-home orders are lifted in that area, and (2) the city's exposure to highly-performing industries that can recover quickly from the pandemic. Many businesses are highly levered and will require a speedy economic recovery to remain afloat. Consumer spending is a reliable leading indicator to measure economic activity, given that it drives economic heath more directly than other determinants of economic output, such as investment, government spending, and trade.
In some states, such as New York and California, stay-at-home orders did not begin to ease until June resulting in large decreases in spending levels year-over-year from March to May. Cities that do not rely heavily on tourism, such as Pittsburgh or San Antonio, have seen strong population growth over the last year and, will be in a better position for a quick economic recovery.
Conclusions
These factors do not represent all those that could be considered when evaluating the economic impact of the coronavirus pandemic. Others include the pandemic's effect on immigration, gig workers, or other major workforce sectors such as construction and manufacturing. Additionally, significant variations in outlook could occur based on (1) the severity and infectiousness of a potential second wave of the virus, (2) how rapidly various sectors of the economy recover from the shutdown, and (3) the possibility of trade issues or political unrest.
Finally, the impact on specific property types in a given city can vary significantly from the city economy as a whole, as sector performance is also driven by supply, demand, and valuation. However, this framework provides real estate investors with recent data to assess the city-level economic impact as well as the real estate impact of the coronavirus pandemic. For more information on our proprietary model and a full ranking of the 50 cities, please contact your Nuveen relationship manager or our real estate specialist team.